2515 FM 315 S Chandler, TX 75758
Welcome to Dragonslayer Industries - Where Art and Fabrication Intersect!
Are you ready to embark on a journey of creativity and craftsmanship? Look no further than Dragonslayer Industries, your ultimate destination for CNC plasma art and light-duty fabrication. Nestled just south of Chandler, TX, we bring together the finesse of artistic expression and the precision of expert fabrication to create exceptional pieces that captivate and inspire.
Discover the Fusion of Art and Fabrication:
At Dragonslayer Industries, we believe that art and fabrication are not separate entities but rather two forces that complement each other harmoniously. Our owner and creator harnesses the power of cutting-edge CNC plasma technology, breathing life into raw materials and transforming them into mesmerizing works of art.
CNC Plasma Art:
Our CNC plasma artistry knows no bounds. Whether you're seeking intricately designed metal sculptures, stunning wall decor, or personalized signage, we pour our passion and creativity into every project. From majestic dragons that embody strength and resilience to enchanting landscapes that evoke a sense of wonder, our CNC plasma art pieces are bound to leave a lasting impression.
Light Duty Fabrication:
Beyond our artistic prowess, Dragonslayer Industries excels in light-duty fabrication. Our fabrication brings precision and attention to detail to each project, crafting durable and functional pieces that stand the test of time. From custom brackets and metal furniture to gates and railing, we blend functionality with aesthetics to elevate your spaces.
Unleash Your Imagination:
At Dragonslayer Industries, we thrive on turning your visions into reality. Our collaborative approach ensures that your ideas receive the attention they deserve. Whether you're an individual seeking a unique art piece to elevate your living space or a business in need of expert fabrication solutions, we're here to bring your dreams to life.
Explore Our Online Presence:
Visit us on our website: dragonslayerind.com to browse our portfolio, learn about our services, and get in touch with our team. Stay connected with us on social media for exciting updates, behind-the-scenes glimpses, and exclusive offers:
A Trusted Partner:
With a commitment to quality, craftsmanship, and customer satisfaction, Dragonslayer Industries has earned the trust of countless clients. Our dedication to excellence, paired with our passion for creativity, has established us as a leading force in the art and fabrication industry.
Join the Dragonslayer Industries Family:
Are you ready to witness the intersection of art and fabrication firsthand? Visit us at our Chandler, TX location, where our friendly team awaits to guide you through a world of creative possibilities. Let Dragonslayer Industries be your trusted partner in transforming your space with art and elevating functionality with expert fabrication.
Embrace the Fusion - Dragonslayer Industries Awaits You!
Some of the work that we're proud to do: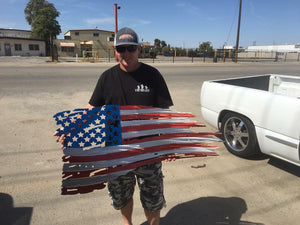 Metal Art
We're very proud of our patriotic metal art. This is a 2' X 4' American flag that went to our friend and a veteran, Jimmy Johnson.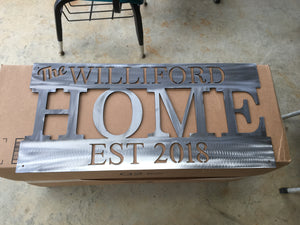 Custom Orders
These custom "HOME" signs have been popular as gifts to new homeowners.Click HERE to check out the item!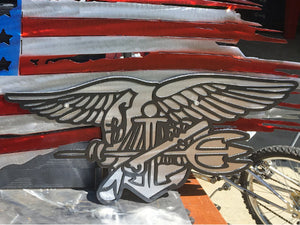 Thank you for your service!
We enjoy supporting our military! Click HERE to get a look at more items.
CUSTOM ORDERS
Please contact us for any custom order ideas you have. This was a custom Christmas gift for the owner of BTuff Magazine, Bakersfield, CA.